UFC Fight Night takeaways Islam Makhachev is ready for a title

UFC Fight Night results, highlights: Islam Makhachev dominates … Sat, 17 Jul 2021 15:00:00 -0700-Islam Makhachev did exactly what he was expected to do, but the performance of Miesha Tate was a bit surprising.
UFC Fight Night takeaways – Islam Makhachev is ready for a title shot; no ring rust for Miesha Tate
All eyes were on Islam Makhachev on Saturday night. Heading into his first UFC main event, those surrounding the fight game talked up the Dagestani star and pupil of Khabib Nurmagomedov. He answered all questions and thoroughly dominated Thiago Moises before ultimately submitting him in the fourth round.
The top of the lightweight division is officially on notice, as are the strawweights who watched as Amanda Lemos scored another knockout victory. Lemos' power is eye-opening, and it's likely that her next fight, which she hopes will come later this year, will be against a top contender in the division.
But perhaps the biggest statement of the night was made by Miesha Tate. Returning after five years away from the sport, Tate looked like she never left and coasted to a third-round finish against Marion Reneau. Will Tate meet a familiar face in her next fight in the Octagon? Did she immediately join the title contenders with this first step back?
Brett Okamoto, Marc Raimondi and Morgan Mularski look at a busy fight night in Las Vegas.
Makhachev is a future lightweight champion
Okamoto: I feel like Islam Makhachev could fight for the title tomorrow. He's ready. And I would say it's more likely than not that he ultimately will win the championship.
Right now, I don't think oddsmakers would favor a single lightweight over Makhachev. I think he'd be the favorite against Charles Oliveira, Dustin Poirier, Justin Gaethje, Michael Chandler — all of them. When Makhachev was scheduled to fight Rafael dos Anjos last year, he was favored by more than 5-to-1.
What did he prove on Saturday in his win over Thiago Moises? Nothing too wild that we already didn't know — but it was reminiscent of Makhachev's former teammate and current coach Khabib Nurmagomedov in that you're forced to really try to look for areas to nitpick. Moises was able to hold him against the fence a bit in the second round, I guess? Moises nearly took his back for a split second, before completely losing the position. What else can you point to?
We used to do the same with Nurmagomedov. Hey, Michael Johnson hit him one time, and it looked like maybe he was rocked for half a second. Nurmagomedov wasn't able to finish some of his competition, even when the foes were clearly overmatched. Could his cardio last during a longer fight? We nitpicked, and then when Nurmagomedov entered his true prime — age 30, his championship run — he dominated the best of the division in a way that showed he was several levels above.
Will Makhachev do the same? Honestly, that's the expectation at this point. Because I'm looking for things to critique here, and I'm not finding many. And I bet the rest of the UFC lightweights aren't finding many, either.
The best fight for Makhachev now, in my opinion, would be Tony Ferguson. And before you say I'm kicking Ferguson while he's down — he has lost three in a row — I think it would actually be the best fight for Ferguson to take. Yes, the challenge is great, but so is the upside.
Ferguson is in the worst slump of his career, but interest would be sky-high for a fight between him and Makhachev. Nurmagomedov vs. Ferguson fell apart five times; it's the fight that got away in mixed martial arts. Revisiting it, in a way, with Makhachev vs. Ferguson would be huge. And imagine if Ferguson pulled it out; he'd jump right back into title contention. All that said, however, I'm guessing Makhachev's next fight will be against Rafael Dos Anjos.
Tate back like she never left
Raimondi: Miesha Tate had not fought since 2016, a lopsided loss to Raquel Pennington at UFC 205. Tate retired afterward. After nearly five years away, the expectations for her return were tempered — as they should have been. Tate had two kids while away, and she was working as an executive with ONE Championship in Singapore. Her comeback, when it was announced in March, seemed to come out of nowhere. But the former women's bantamweight champion — and one of the most popular female fighters in MMA history — shattered those expectations completely.
Tate dominated Marion Reneau on Saturday night in her return bout. Tate looked as good as she ever did, despite the lengthy layoff of 1,708 days, which is the longest gap between UFC fights for anyone who didn't compete in another promotion in between. Reneau had never been finished before. Tate, meanwhile, has never been much of a finisher; she didn't have a TKO victory in the UFC before Saturday night.
Tate deserves a ton of credit. She put in the work. She was clearly in tremendous shape. She also seems like she is in a good place in her life as a mom with her partner, Johnny Nunez. It's obvious this isn't just a money grab for her; she's serious about a comeback.
After winning against Reneau, Tate reiterated that she has returned not just for this win but to try to win back the title. Amanda Nunes has been the champion since she stopped Tate via submission at UFC 200 in July 2016. Who knows what's next for Tate, but it'll likely be a big fight. Holly Holm, whom Tate beat for the title, has already expressed interest in a rematch. That could end up being a title eliminator. It's wild to think Tate could be challenging for a shot at the belt in 2022 or even late 2021. But it doesn't seem all that unusual after seeing how good she looked Saturday.
Women's bantamweight is a sluggish division. Nunes has dominated everyone in her path. Things have been stagnant, seemingly since Tate left. Well, "Cupcake" is back now and giving that weight class a much-needed shot in the arm. There are many more interesting matchups now than there were before Saturday at women's 135 pounds, and it seems we're looking at some exciting, unexpected times to come in that division.
There's a new strawweight contender in town
Amanda Lemos drops Montserrat Conejo in the first round of their bout at UFC Fight Night.
Mularski: Amanda Lemos showed up and showed out for the 500th women's UFC fight with a 35-second KO over Montserrat Conejo, the second fastest finish in UFC's strawweight history. There's no doubt Lemos' force and accuracy make her a top contender — and even a potential champion — in the strawweight division. Lemos now has four straight wins, which is tied for the third-longest active UFC win streak in the division.
Lemos showed off her striking power with a knockout of Livinha Souza on March 6. On Saturday, Lemos proved it was no fluke. Lemos is an accurate striker; and as she progresses, her power will allow her to match up well with two of the other heavy strikers at the top of the strawweight division — champion Rose Namajunas and Zhang Weili.
"I don't know why two top-5 opponents refused to face me, but I'm here, I'm waiting," Lemos said. "I want to fight. No matter who my opponent is. If they didn't want to face me now, there will be a time when they won't be able to run away from me."
She's right. If Lemos keeps this up, the top contenders in the division will need to take a fight with her if they want to hold their place in line. Lemos said she wants to fight in October, hopefully on Fight Island in Abu Dhabi, United Arab Emirates. After this current run of knockouts, she has become must-see and a potential star in the marking.
---
... read more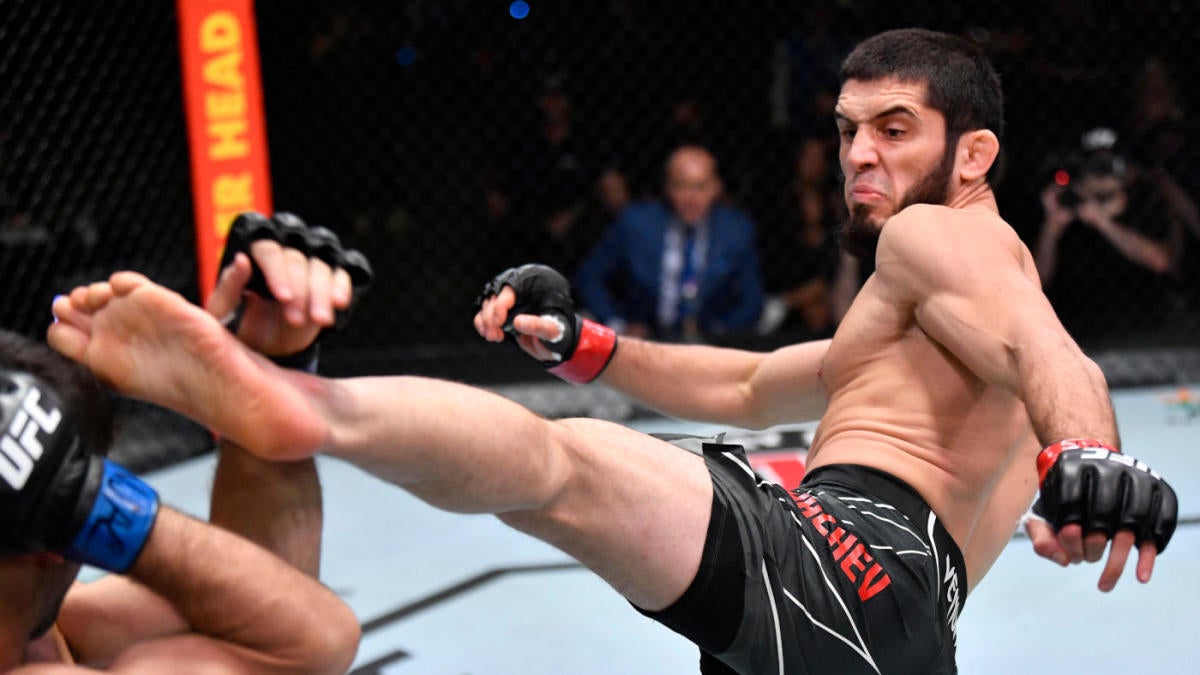 UFC Fight Night takeaways – Islam Makhachev is ready for a title … Sat, 17 Jul 2021 15:00:00 -0700-With former UFC champion Khabib Nurmagomedov in his corner, Islam Makhachev dominated Thiago Moises for a fourth-round submission in the lightweight …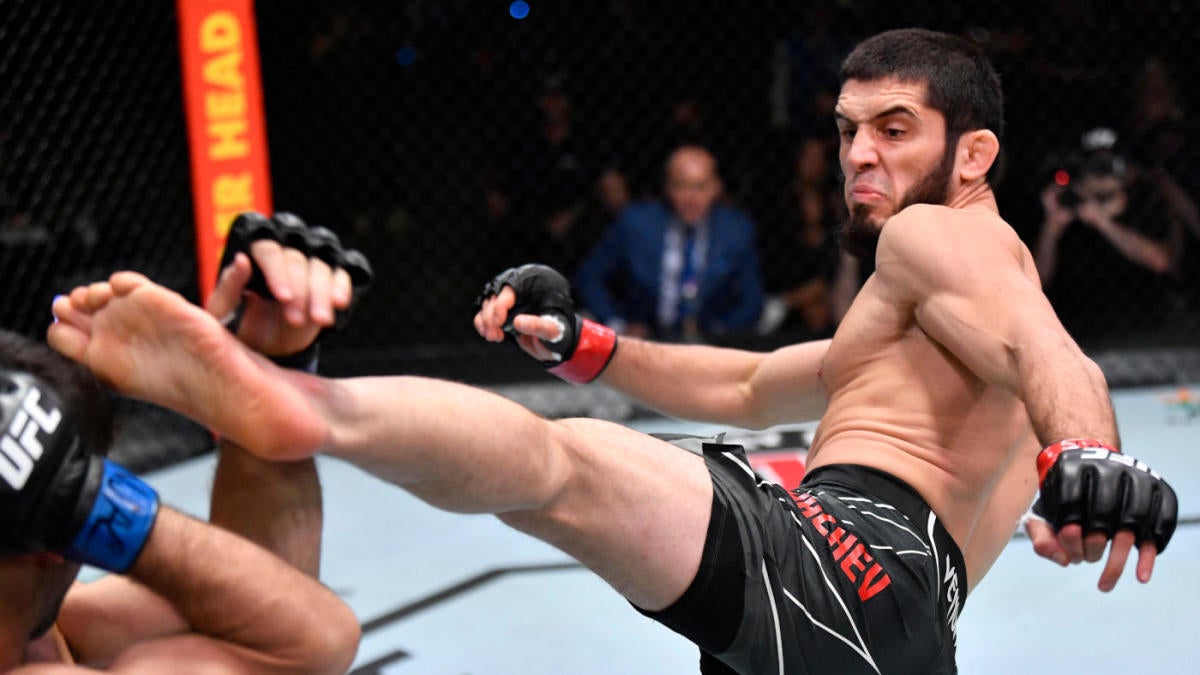 UFC Fight Night results, highlights: Islam Makhachev dominates Thiago Moises to score fourth-round submission
With former UFC champion Khabib Nurmagomedov in his corner, Islam Makhachev dominated Thiago Moises for a fourth-round submission in the lightweight main event of UFC Fight Night from the Apex facility in Las Vegas. Makhachev was never in danger throughout the fight, dominating both on the feet and on the ground to score yet another impressive victory.
Makhachev looked strong on the feet from the opening round, showcasing strong combination punching and mixing in big kicks to the body. To the Dagestani fighter, showcasing his wrestling seemed a priority before his coaches insisted he change his focus, despite the early success.
"I felt very comfortable when I strike with him, but these guys said, 'Take him down, take him down,'" Makhachev said of his corner after the fight. "I wanted to do my striking but I have to listen to my coaches."  
Surprisingly, Moises managed to take Makhachev down in the second round. Showing considerable calmness and that his grappling skills translate to all areas of the sport, Makhachev easily reversed nearly immediately, taking Moises' back. Moises managed to survive as Makhachev easily moved to mount, landing big shots before trying to sink in an armbar as the round came to a close.
Having found no success on the feet and even less on the ground, Moises chose to continue trying to force the fight to the ground, with the apparent thinking that catching Makhachev in a submission would be his most realistic path to victory. That nearly paid off in the third round, with Moises teasing a heel hook after Makhachev reversed Moises' takedown attempt into one of his own.
By Round 4, Makhachev had completely taken over, this time initiating his own takedown. Makhachev eventually advanced to the back before sinking in a fight-ending rear-naked choke.
In addition to his improved striking, Makhachev showed that his cardio could hold up in a fight that went into the championship rounds.
"You know, this is my first fourth round in my life," Makhachev said. "I never fought more than three rounds so this is good experience for me. He's a tough opponent, I tried to finish him before four rounds, but he's very strong." 
Makhachev has long felt he is the most avoided fighter in the division, struggling to get matched up against top contenders at 155 pounds despite a now eight-fight winning streak. The desire for a big fight was brought up once again after his big main event victory.
"I have one question, brother," Makhachev said. "Why do all these guys run? Nobody wants to take this fight. Give me an answer."  
---
... read more

– July 18, 2021
Islam Makhachev