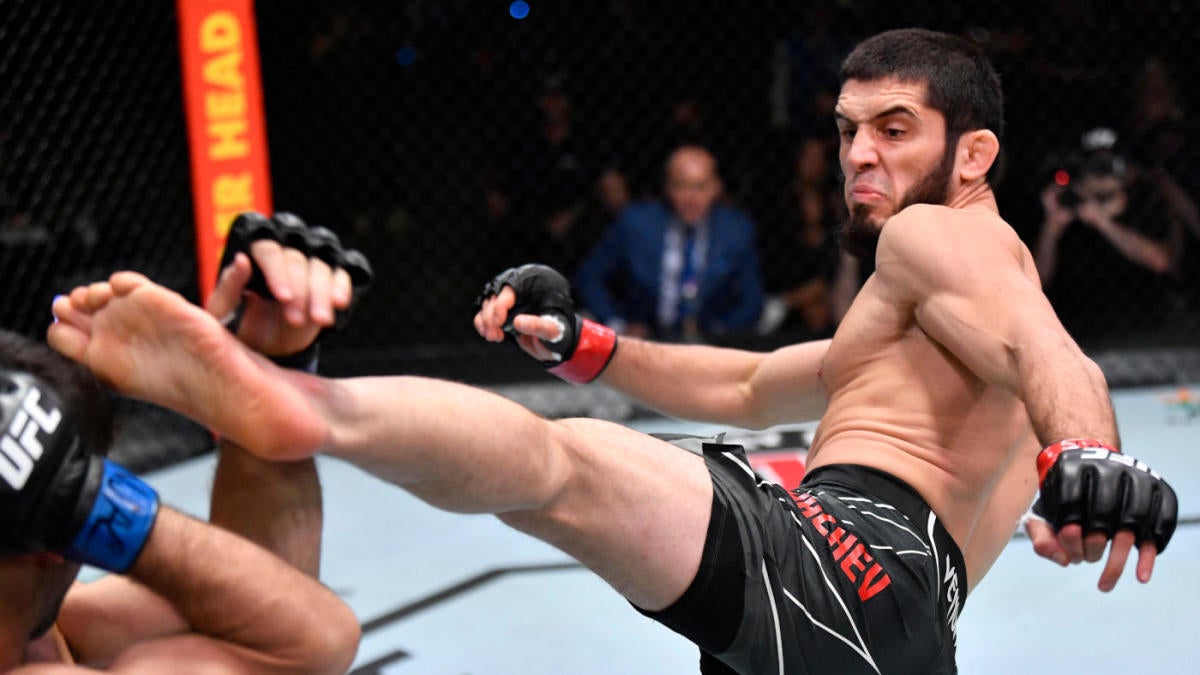 Islam Makhachev submits Thiago Moises in 4th round of UFC main … Sun, 18 Jul 2021 06:00:00 +0100-With former UFC champion Khabib Nurmagomedov in his corner, Islam Makhachev dominated Thiago Moises for a fourth-round submission in the lightweight …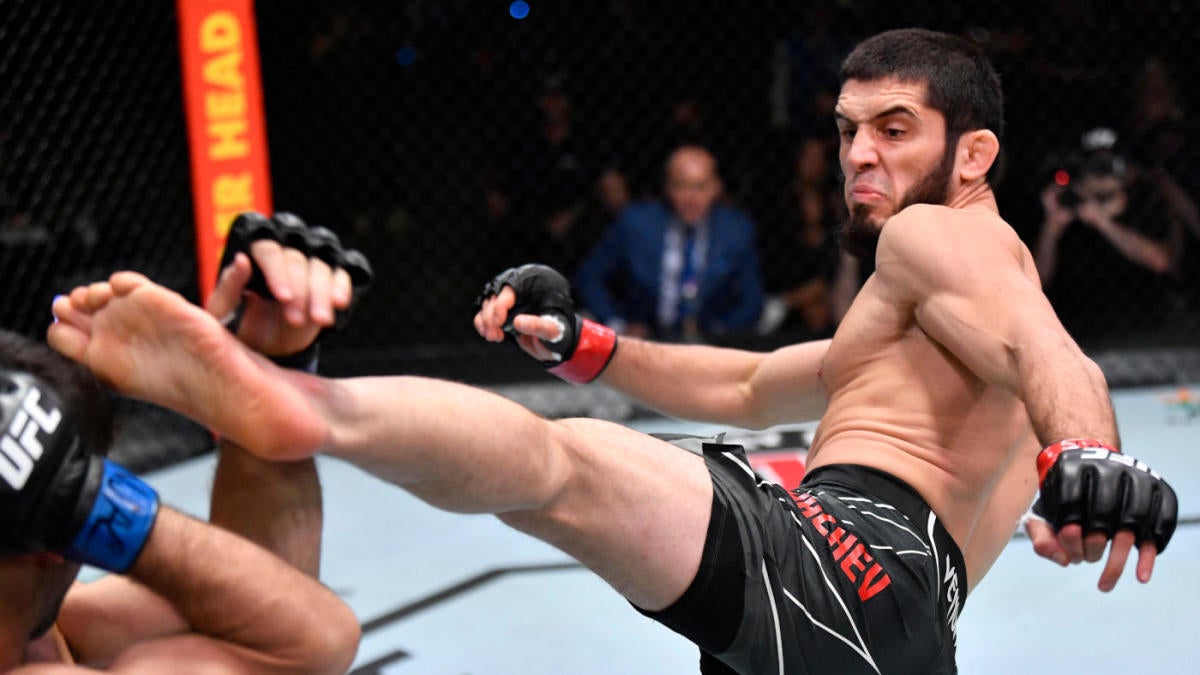 UFC Fight Night results, highlights: Islam Makhachev dominates Thiago Moises to score fourth-round submission
With former UFC champion Khabib Nurmagomedov in his corner, Islam Makhachev dominated Thiago Moises for a fourth-round submission in the lightweight main event of UFC Fight Night from the Apex facility in Las Vegas. Makhachev was never in danger throughout the fight, dominating both on the feet and on the ground to score yet another impressive victory.
Makhachev looked strong on the feet from the opening round, showcasing strong combination punching and mixing in big kicks to the body. To the Dagestani fighter, showcasing his wrestling seemed a priority before his coaches insisted he change his focus, despite the early success.
"I felt very comfortable when I strike with him, but these guys said, 'Take him down, take him down,'" Makhachev said of his corner after the fight. "I wanted to do my striking but I have to listen to my coaches."  
Surprisingly, Moises managed to take Makhachev down in the second round. Showing considerable calmness and that his grappling skills translate to all areas of the sport, Makhachev easily reversed nearly immediately, taking Moises' back. Moises managed to survive as Makhachev easily moved to mount, landing big shots before trying to sink in an armbar as the round came to a close.
Having found no success on the feet and even less on the ground, Moises chose to continue trying to force the fight to the ground, with the apparent thinking that catching Makhachev in a submission would be his most realistic path to victory. That nearly paid off in the third round, with Moises teasing a heel hook after Makhachev reversed Moises' takedown attempt into one of his own.
By Round 4, Makhachev had completely taken over, this time initiating his own takedown. Makhachev eventually advanced to the back before sinking in a fight-ending rear-naked choke.
In addition to his improved striking, Makhachev showed that his cardio could hold up in a fight that went into the championship rounds.
"You know, this is my first fourth round in my life," Makhachev said. "I never fought more than three rounds so this is good experience for me. He's a tough opponent, I tried to finish him before four rounds, but he's very strong." 
Makhachev has long felt he is the most avoided fighter in the division, struggling to get matched up against top contenders at 155 pounds despite a now eight-fight winning streak. The desire for a big fight was brought up once again after his big main event victory.
"I have one question, brother," Makhachev said. "Why do all these guys run? Nobody wants to take this fight. Give me an answer."  
---
... read more

UFC Fight Night results, highlights: Islam Makhachev dominates … Sun, 18 Jul 2021 06:00:00 +0100-Islam Makhachev completely dominated Thiago Moises in Saturday's UFC Fight Night main event, submitting him via rear-naked choke in the fourth round.
Islam Makhachev submits Thiago Moises in 4th round of UFC main event, then asks 'Why all these guys run?'
Islam Makhachev's toughest task moving forward might be finding someone willing to fight him.
Makhachev completely dominated Thiago Moises in the UFC Fight Night main event Saturday in Las Vegas. Moises mounted almost no offense at all and Makhachev was able to finish him with a submission (rear-naked choke) at 2:38 of the fourth round. This was Makhachev's first UFC main event and his first time going past the third round in a bout. It was the first submission loss of Moises' career.
Coming in, ESPN had Makhachev ranked No. 8 in the world at lightweight. But it has been difficult for him to find opponents willing to compete against him due to his dominant wrestling and grappling, combined with his slick southpaw kickboxing. Afterward, Makhachev called out former lightweight champion Rafael dos Anjos.
"Why all these guys run?" Makhachev said in his postfight interview. "Nobody want to take this fight. Please give me an answer."
Makhachev is the longtime training partner of Khabib Nurmagomedov, the recently retired former lightweight champion and pound-for-pound great. Nurmagomedov is now Makhachev's coach, and Makhachev is expected by his team at American Kickboxing Academy to be Nurmagomedov's 155-pound heir. That was the plan laid out by Nurmagomedov's late father, Abdulmanap, who died last year due to complications from COVID-19.
In the first round, Makhachev landed combinations on the feet, then took Moises down and landed ground and pound, opening several cuts on Moises' face. Moises nearly got a takedown in the second, but Makhachev outscrambled him and worked to mount, going for an armbar as the bell sounded. Makhachev got Moises down in the third and took his back. And in the fourth he slammed Moises hard to the mat, took his back and finished with the choke. The bout never seemed close.
"You can run, but you can't hide," Makhachev said in regard to dos Anjos. "I am here."
Makhachev (20-1) has won eight straight fights and has not lost since 2015, a knockout defeat against Adriano Martins. The winning streak is the fourth longest in UFC lightweight history. The Dagestan native is 9-1 in the UFC; the only man with a better record in lightweight division (minimum five fights) history was Nurmagomedov, per ESPN Stats & Information research.
Makhachev, 29, is a former combat sambo world champion.
Moises (15-5) had won three in a row and four of his past five entering Saturday. The Brazil native was coming off a unanimous decision win over Alexander Hernandez in February. Moises, 26, is the former RFA lightweight champion.
---
... read more
– July 18, 2021
Islam Makhachev UFC Fight Night results highlights dominates