NBA Finals Giannis Antetokounmpo Is Seizing Moment

Home cooking helps Bucks beat Suns in Game 3 of NBA Finals Sun, 11 Jul 2021 16:00:00 -0700-Forget the labels. The superstar has been sensational in the NBA Finals and his legacy is still taking form.
MILWAUKEE — The ball was there for the taking, but a pesky swarm of Suns kept denying Giannis Antetokounmpo what was rightfully his. First Devin Booker, then Mikal Bridges and finally Cam Johnson and Jae Crowder—an irritating, flailing web of arms and palms and fingers—until finally Giannis had had enough.
He ripped the ball from Johnson, sprung skyward and slammed it through the rim with malice, punctuating it all with a left fist pump and a snarl.
It was just one basket among 14 for Antetokounmpo on Sunday, one third-quarter sequence in a surge that fueled the Bucks' 120-100 victory in Game 3 of the Finals. But also, it was everything. It was a burst of sheer determination, an outright refusal to surrender a single inch or a single possession—or the opportunity to make this Finals a real series.
Jeff Hanisch/USA TODAY Sports
For three straight days, the Bucks had to wallow in a 2-0 deficit, amid proclamations of the Suns' superiority and renewed doubts about every Bucks frailty. A loss Sunday would have effectively ended the series, and hardened those doubts. About the supporting cast being too soft. About Antetokounmpo being more Robin than Batman (more Pippen than Jordan, etc., ad nauseum). About his two MVP awards being, well, suspect.
So he attacked and snarled and bullied and bulldozed until he had 41 points, 13 rebounds, six assists and raucous victory, the first Finals win of his young career. Suddenly, the comparisons involved a very different list of names.
The 103 points Antetokounmpo has scored in his first three Finals games? Only Rick Barry, Allen Iverson and Willis Reed scored more. The 40-plus points and 10-plus rebounds in consecutive Finals games? Shaquille O'Neal is the only other to have done it.
By the end of the evening, Antetokounmpo was batting away attempts to compare him to Michael Jordan, who put up 40-plus points in four straight games in the 1993 Finals (as it happens, against Phoenix).
"I'm not Michael Jordan," he protested. "I'm not Michael Jordan," he repeated twice more.
Nor is he Pippen—not that comparisons to a top-50 Hall of Famer should be viewed an insult. Nor is he Robin, who surely deserves more crime-fighting credit than he gets, too. And no, he's not Michael, either. None of it applies, in part because it's nonsensical to slap definitive labels on a superstar who's just beginning to write his postseason legacy.
But the hot takes fly quickly in this 24/7 embrace-debate era, and there are only so many chances to seize and shape your own narrative. This is, after all, Antetokounmpo's first Finals, and it's been frankly dazzling so far.
Through three games, he's averaging 34.3 points, 14 rebounds and a .625 field-goal percentage—and that's despite modest production in Game 1, when he was still recovering from a hyperextended left knee. Remember, just a week ago there were doubts he'd play at all. Now he's putting up averages that, if they hold, would place him alongside O'Neal and Elgin Baylor.
"I don't even know how he's even doing it, man," said teammate Bobby Portis. "Most of the time when guys do that, they come back and ease into it, or they come back and they're kind of timid and whatnot. He's still just going out there and playing the same way, like he never did that."
Portis added, accurately: "I just think whoever gave him nickname the `Greek Freak' did a great job of that, for real."
On this night, Antetokounmpo even made his free throws, going 13 for 17 to a periodic serenade of "MVP" chants—a welcome change from the taunting counting ("one, two, three…10, 11, 12") by Suns fans, who mocked Antetokounmpo for his excessively long routine at the foul line. At times, the Bucks faithful hushed to allow their favorite artist to go to work, then exploded for each make.
The comforts of home did everyone some good. Khris Middleton and Jrue Holiday shot better (a combined 14 for 28), and Porter came through for 11 points off the bench. They collectively throttled Suns star Devin Booker (10 points, 3 for 14 from the field), kept Chris Paul in check (19 points) and put Deandre Ayton in foul trouble.
Giannis did the rest, bullying Bridges, driving through Ayton and flustering Crowder. He scrapped for every loose ball in the paint, pounced for every putback. He even dished out six assists, his most since Game 2 of the Eastern Conference finals. Late in the game, he seemed to be downright toying with the Suns, dancing with the ball along the perimeter, dishing off to Pat Connaughton, then slipping back door for another thunderous dunk and a 25-point lead. He left moments later to a standing ovation.
When it was time for his postgame interview, Antetokounmpo arrived with his toddler son in tow—another perk of being home again. While daddy talked, his son played in the back of the room with a multicolored mini-basketball, letting out the occasional gleeful squeal.
"I feel like I've come a long way," Antetokounmpo said reflecting on the last few weeks, "just to be able to sit here, being interviewed by you guys, playing in this game, being with my teammates, thinking I'm going to be out for a year, coming back. It's been a long journey and I'm trying to enjoy every single moment of it."
He added, with considerable earnestness: "I don't worry about the outcome as much as I want to enjoy the game. I want my teammates to enjoy the game. And I know that by enjoying the game, I'm going to compete as hard as possible."
Legacies are written over years, not weeks, and this one is still being reshaped, recast and reassessed with every game. We can't know what the final version will be—just that every chapter is its own thrill. We should enjoy it as much as he does.
More NBA Playoffs Coverage:
• Suns Starting Unit Synergy Propels Finals Run• Giannis's Latest Rite of Passage? The Superstar Who Needs Help• Are These Finals an Aberration or the New Normal?• The Finals Are Mind-Boggling. And Awesome.
A collection of Sports Illustrated photos of Simone Biles over the course of her gymnastics career.
As NFL players get set for a new season to begin, the former Panthers linebacker recalls being a wide-eyed rookie, an appreciative veteran and everything in between.
Forget the labels. The superstar has been sensational in the Finals and his legacy is still taking form.
Antetokounmpo and the Bucks turned in one of their most complete performances of the year on Sunday night.
A group markedly different than the one that won the Concacaf Nations League began its own trophy quest with a win over Haiti, though there's considerable room for growth.
Pittsburgh went against the grain by selecting Louisville catcher Henry Davis with the No. 1 overall pick, while Texas took Vanderbilt pitcher Jack Leiter at No. 2.
The Astros were down six runs in the ninth inning but completed an improbable comeback to beat the Yankees 8–7.
Cubs outfield prospect Brennen Davis led a home run barrage as the National League beat the American League, 8-3, in Sunday's Futures Game.
---
... read more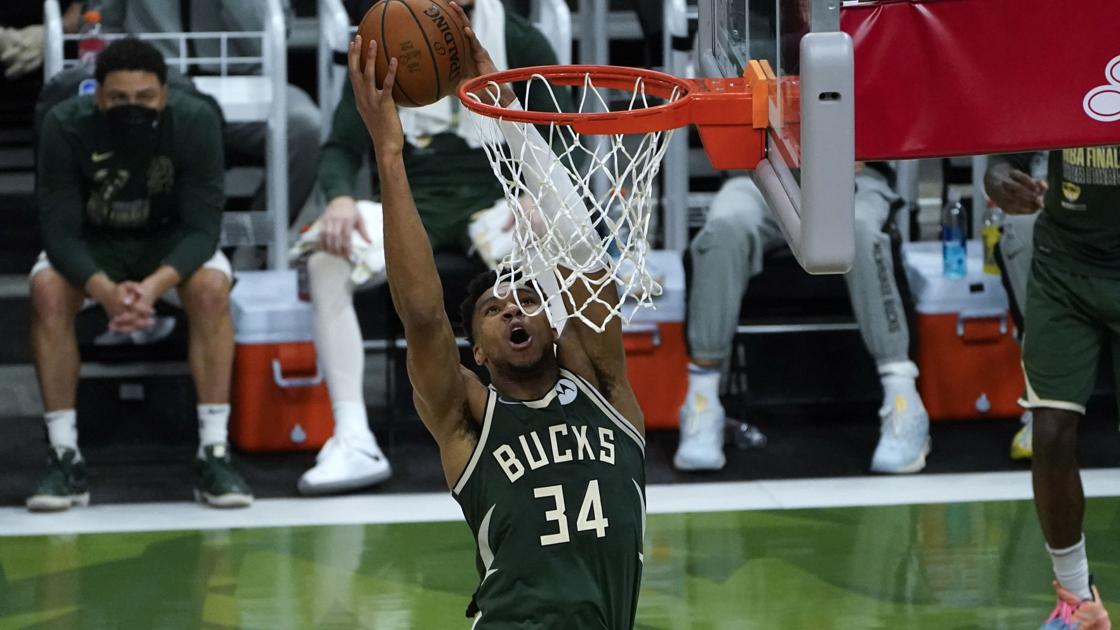 Giannis Antetokounmpo Is Seizing NBA Finals Moment Sun, 11 Jul 2021 16:00:00 -0700-Giannis Antetokounmpo scored 41 points and Milwaukee pulled within 2-1 in the series with a 120-100 win over Phoenix at Fiserv Forum.
Bucks' Giannis Antetokounmpo dunks during the first half Sunday in Milwaukee. He scored 41 points.
Bucks' Jrue Holiday shoots against Suns' Cameron Johnson during the second half. Holiday finished with 21 points and nine assists.
Suns forward and former UW athlete Frank Kaminsky had six points, four rebounds and two assists in 14 minutes.
MILWAUKEE — When Giannis Antetokounmpo crashed to the court just two weeks ago with what appeared to be a serious knee injury, there was no guarantee he'd be back this season.
Maybe, he feared, he might even miss a year.
Antetokounmpo refused to stay down.
These Milwaukee Bucks just won't, either.
Antetokounmpo had 41 points, 13 rebounds and six assists in the NBA Finals' return to Milwaukee, and the Bucks pounded Phoenix 120-100 on Sunday night, cutting the Suns' lead to 2-1.
"We knew what kind of game this was going to be," Antetokounmpo said. "We knew that if we lose the game you're in the hole."
Instead, the Bucks started climbing out of one.
The first NBA Finals game in Milwaukee since 1974 went to the home team in a romp, with Antetokounmpo and the bigger Bucks overwhelming the smallish Suns to the tune of a 20-2 advantage in second-chance points.
Game 4 is Wednesday night, with the series guaranteed to go back to Phoenix afterward.
"I said it after last game. This team's not going to give in. They're going to keep playing all the way through," Suns star Devin Booker said. "So we have to bring that same effort that we had in the first two games and I think we'll be in good shape."
Antetokounmpo, who missed the last two games of the Eastern Conference finals because of a hyperextended left knee and was no sure thing to even be ready to start this series, followed up his 42-point, 12-rebound performance in Game 2 by doing it all again — even making his free throws this time.
Back in front of his own fans and free of the loud counts he's been hearing on the road, Antetokounmpo went 13 of 17 at the line. With two straight 40-point games in the NBA Finals, he's halfway to Michael Jordan's record — set against the Suns.
Chris Paul had 19 points and nine assists, but the Suns got next to nothing from his star backcourt mate. Booker shot 3-for-14, scoring just 10 points.
Jrue Holiday bounced back from two poor games in Phoenix with five 3-pointers and 21 points to get the Bucks going again onto the comeback trail, having already overcome one 2-0 deficit in this postseason. Khris Middleton added 18.
"We all hate to lose and we know the ultimate goal," Holiday said.
Fans broke out their "Bucks in 6! Bucks in 6!" chant as Milwaukee started to pull away in the first half and then again as the benches emptied with the final minutes.
The Bucks are seeking their second NBA title and hadn't even played for one in 47 years. They grabbed control of this game by outscoring Phoenix 30-9 over the last nine minutes of the second quarter, then ending the third with a 16-0 finish.
Fans began making their way to the Deer District outside the arena in the middle of the afternoon, with so many fans decked out in green that Fiserv Forum felt more like Fiserv Forest.
They didn't get to cheer as much as they wanted early after a strong start by the Suns, who got 12 points from Deandre Ayton in the opening period. But Ayton was hampered by foul trouble and the Bucks soon ran past and kept right on going.
Antetokounmpo had seven straight points to finish a 9-0 run in the second that gave Milwaukee a six-point lead, and after Phoenix scored four straight, the Bucks took off again on a 16-3 run.
Bobby Portis had the last two baskets in the half, finishing off a pretty fast break with a dunk for one of them, and it was 60-45 at the break.
The lead was 13 with under eight minutes left in the third when Cam Johnson took a pass near midcourt with an open path to the basket. P.J. Tucker tried to step in but was too late, and Johnson threw it down over him while drawing the foul.
That triggered a 14-5 run that cut it to 74-70 and seemed to have the Suns back into the game. Just as quickly, they were out of it again.
Holiday made two 3-pointers in the next minute and Milwaukee pushed the lead back to nine, and by the end of the third it had ballooned to 98-76.
The Bucks, who lost the first two games against Brooklyn in the second round, avoided falling into a 3-0 hole from which no NBA team has escaped.
They limited the Suns to nine 3-pointers after Phoenix hit 20 in its Game 2 victory.
Ayton and Jae Crowder each had 18 points for the Suns. But Mikal Bridges, who had a career playoff-high 27 in Game 2, took only four shots and had four points.
Suns: Frank Kaminsky, the former college player of the year at the University of Wisconsin, had six points after going scoreless in the two games in Phoenix. … Torrey Craig had two points in 15 minutes after hurting his right knee in Game 2. He came up gingerly after lunging to save a bad pass by Paul that went out of bounds in the second quarter.
Bucks: Antetokounmpo had his 11th game with 30 points and 10 rebounds, passing Kareem Abdul-Jabbar in 1974 for most by a Bucks player in one postseason. Only Shaquille O'Neal (13, 2000) and Elgin Baylor (12, 1962) had more. … Portis and Brook Lopez each scored 11 points.
Phoenix 28 17 31 24 — 100
Milwaukee 25 35 38 22 — 120
PHOENIX — Bridges 2-4 0-0 4, Crowder 6-7 0-0 18, Ayton 8-11 2-2 18, Booker 3-14 3-5 10, Paul 8-14 2-3 19, Craig 1-5 0-2 2, Johnson 5-11 3-3 14, Nader 0-1 0-0 0, Kaminsky 3-5 0-0 6, Alexander 1-1 0-0 2, Payne 3-10 1-1 7. Totals 40-83 11-16 100.
MILWAUKEE — G.Antetokounmpo 14-23 13-17 41, Tucker 3-5 0-0 7, Lopez 4-9 2-2 11, Holiday 8-14 0-0 21, Middleton 6-14 3-3 18, Nwora 1-1 0-0 3, Portis 4-11 2-2 11, T.Antetokounmpo 0-2 0-0 0, Connaughton 3-5 0-0 8, Forbes 0-2 0-0 0, Merrill 0-0 0-0 0, Teague 0-4 0-2 0. Totals 43-90 20-26 120.
3-point goals — P 9-31 (Crowder 6-7, Paul 1-4, Johnson 1-5, Booker 1-7, Bridges 0-2, Payne 0-2, Craig 0-3), M 14-36 (Holiday 5-10, Middleton 3-7, Connaughton 2-4, Tucker 1-2, Portis 1-3, Lopez 1-4, Forbes 0-2, G.Antetokounmpo 0-2). Rebounds — P 36 (Ayton 9), M 47 (G.Antetokounmpo 13). Assists — P 21 (Paul 9), M 28 (Holiday 9). Total fouls — P 24, M 18. Att. — 16,637.
Get local news delivered to your inbox!
Two-time NBA MVP Giannis Antetokounmpo spoke to the media Wednesday afternoon about the NBA-record $228 million 5-year contract extension he s…
With NBA superstar Giannis Antetokounmpo demonstrating his loyalty to the Milwaukee Bucks and the city he calls "home" by signing a five-year …
Milwaukee has overcome an 0-2 deficit previously in this year's playoffs but hasn't gone up against anyone like Phoenix guards Chris Paul and Devin Booker.
Phoenix already is playing without reserve forward Dario Saric, who tore his right anterior cruciate ligament in the first quarter of Phoenix's 118-105 Game 1 triumph on Tuesday.
Milwaukee Mayor Tom Barrett said the Bucks "embody not only the team spirit that you see with all the players, but they embody the community spirit of wanting to be a part of the community. It has been true since the day they got here."
Milwaukee's Giannis Antetokounmpo finished with 42 points and 12 rebounds in Thursday's 118-108 loss to Phoenix.
"You know me," said former UW star Frank Kaminsky, now a bench player for the NBA Finals-bound Phoenix Suns. "I know how to celebrate."
The 6-foot-11 center's inability to avoid foul trouble enabled Giannis Antetokounmpo and the Bucks to have their way in a 120-100 Game 3 victory over the Suns on Sunday night.
"We knew it was coming," Suns coach Monty Williams said. "We did not respond to it well."
Bucks' Giannis Antetokounmpo dunks during the first half Sunday in Milwaukee. He scored 41 points.
Bucks' Jrue Holiday shoots against Suns' Cameron Johnson during the second half. Holiday finished with 21 points and nine assists.
Suns forward and former UW athlete Frank Kaminsky had six points, four rebounds and two assists in 14 minutes.
Get up-to-the-minute news sent straight to your device.
---
... read more

– July 12, 2021
suns vs bucks, Suns, Bucks, Milwaukee Bucks, Phoenix Suns, Giannis Antetokounmpo, bucks vs suns, Devin Booker, suns game, Chris Paul, bucks game, deandre ayton, Bucks score, suns bucks, Milwaukee, bucks suns