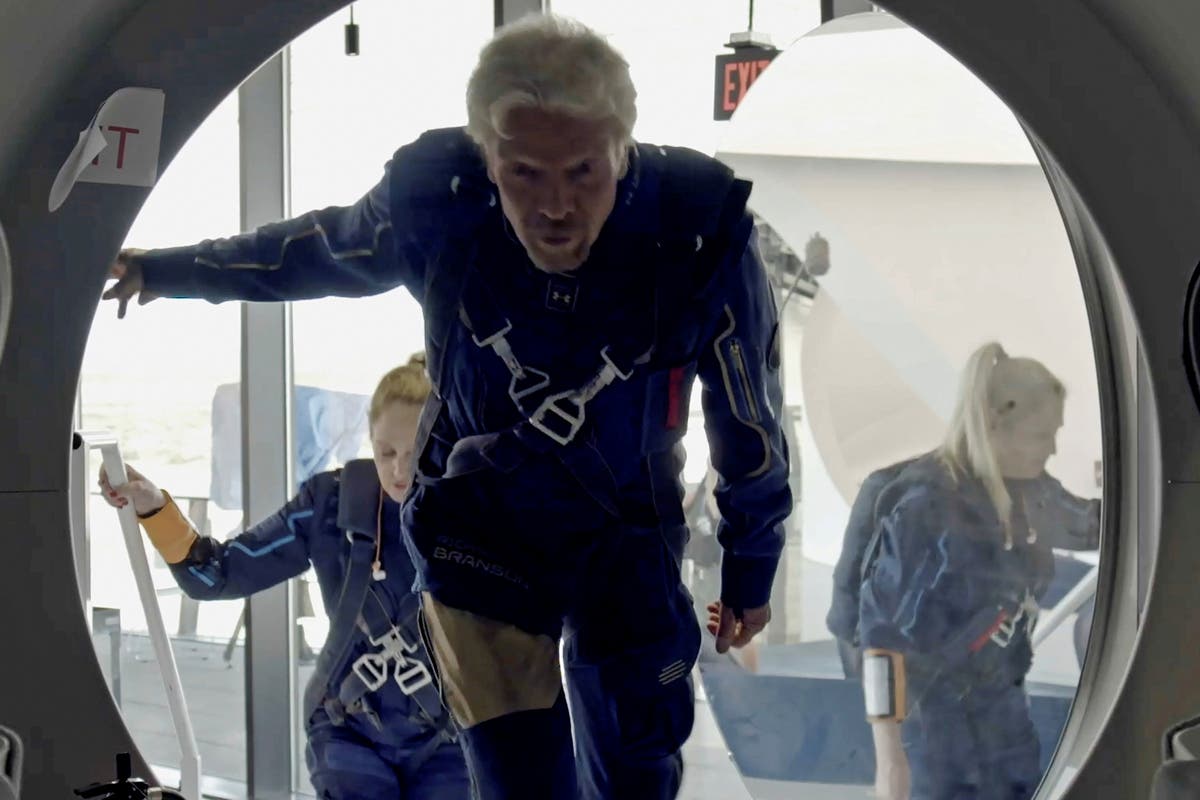 Richard Branson's bid to jet into space and be back in time for the … Sun, 11 Jul 2021 09:00:00 +0100-The British entrepreneur, along with two pilots and three other passengers, is due to begin his mission onboard the space plane VSS Unity at around 7am local US …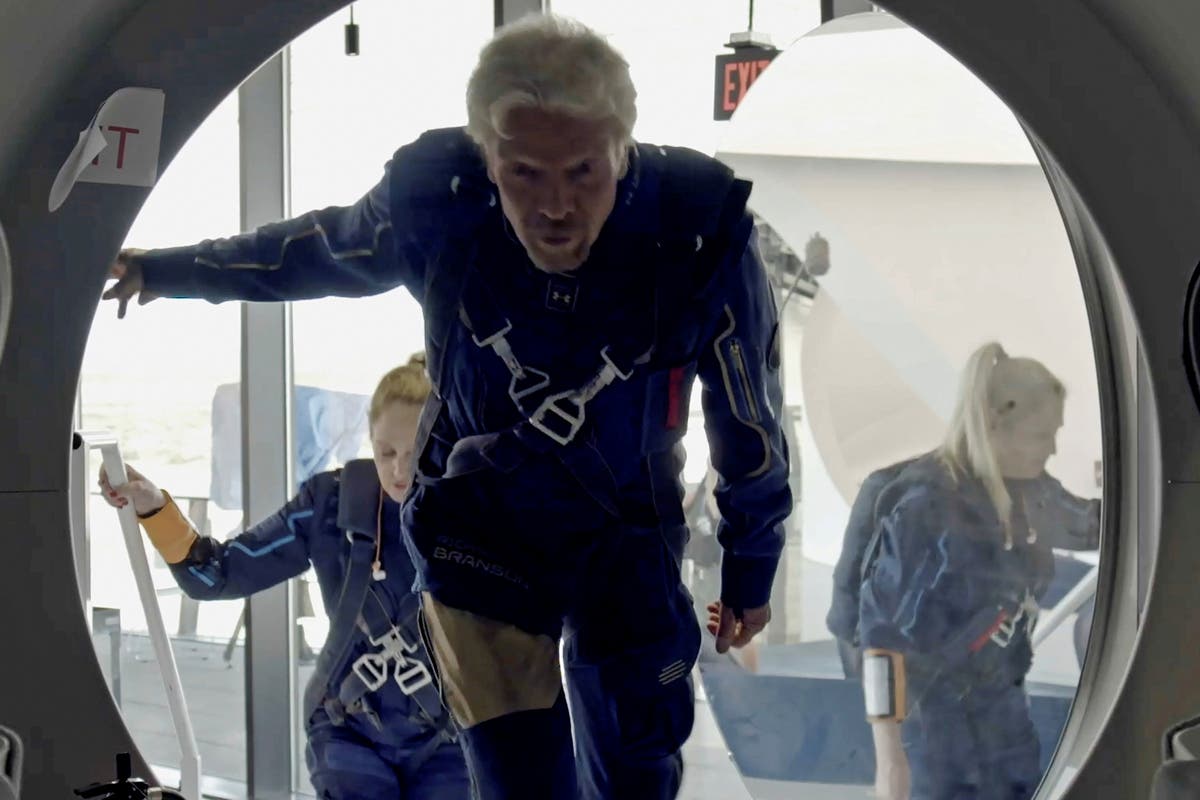 Richard Branson to jet off to space on Virgin Galactic plane
July 11, 2021
Richard Branson is about to embark on a flight to the edge of space on a Virgin Galactic flight, in the hopes of becoming the first billionaire to leave the Earth.
The British entrepreneur, along with two pilots and three other passengers, is due to begin his mission onboard the space plane VSS Unity at around 7am local US time (2pm BST) on Sunday.
The plane will fly to where the sky turns black and the Earth's horizon curves away into the distance, before experiencing several minutes of weightlessness and returning to the company's New Mexico launch headquarters.
A livestream can be viewed here on Virgin Galactic's YouTube page.
It will be the first time that the company has conducted a fully crewed flight to the edge of space, though not the first time people have travelled in the spacecraft.
Mr Branson had not originally been due to ride on VSS Unity for test flights, but Virgin Galactic confirmed his participation has been expedited so he could "test the private astronaut experience".
The spaceplane's two pilots, Dave Mackay and Michael Masucci, will control the ignition and shutoff of the ship's rocket engine, and activate the vehicle's "feathered" tail maneuver for re-entry.
The three other mission specialists are Beth Moses, the company's chief astronaut instructor; Virgin Galactic's lead operations engineer Colin Bennett; and Sirisha Bandla, a research operations and government affairs vice president.
"I've always been a dreamer. My mum taught me to never give up and to reach for the stars. On 11 July, it's time to turn that dream into a reality aboard the next @VirginGalactic spaceflight," tweeted Mr Branson.
It will be Virgin Galactic's fourth crewed test flight using VSS Unity, a spaceplane that is dropped from a carrier in mid-air before shooting up to the very edge of space.
Assuming the mission goes well, Virgin has said it plans two further test flights of the spaceplane before beginning commercial service next year.
The company has said it has received more than 600 flight reservations, priced at around $250,000 per ticket, but hopes eventually to slash the cost of each seat to $40,000.
Mr Branson's decision to board the space plane followed the announcement by Amazon founder Jeff Bezos that he would be onboard his company Blue Origin's flight on 20 July.
On Friday, Mr Bezos' space company, Blue Origin, said anyone travelling on Sir Richard's Unity spacecraft would not reach the "internationally recognised" altitude for where space begins – the so-called Kármán line of 100km.
Mr Branson has denied it is a race, despite announcing his plan soon after Bezos and scheduling a date shortly before.
"It's honestly not a race," Branson told Reuters. "If it's a race, it's a race to produce wonderful spaceships that can make many more people be able to access space. And I think that's both of our aims."
---
... read more

Richard Branson to blast off to space on Virgin Galactic plane Sun, 11 Jul 2021 09:00:00 +0100-Richard Branson will attempt a flight into space with an eye on opening up commercial ventures. | ITV National News.
Richard Branson prepares to fly to space | ITV News
July 11, 2021
There's a lot to plan with any space mission, but planning how to go to space and make it back in time to watch England in the Euros final wasn't initially on Richard Branson's pre-flight plan.
It is now.
As a result, at Spaceport, deep in New Mexico's desert, there's a big screen ready for a bit of post-space match action.
Going to space has been Branson's lifelong dream since he watched the moon landing aged 19. He's 70 now and at 2pm UK time he will begin his greatest adventure, swapping global for galactic.
He'll travel on the Virgin spaceship Unity. I got a sneak peak and was surprised how small it seemed, nestled beneath the wings of the mothership the VSS Eve, named after his own mother.
The engineers were doing the last checks. A man with a spanner tightening things up for this moment of history. What a weight of responsibility, as Virgin Galactic send their first manned mission to space.
The aim of this trip is to ready for commercial space travel. Everyone in the six person team has a role. Branson's is to study the traveller's experience.
Apparently it will begin long before getting on board. A week of training at Spaceport to be sure the mind and body can cope with the adventure. How to avoid motion sickness, for one.
If you fancy yourself as a space traveller, a word to the wise… it involves a fair bit of clenching to control blood flow.
Given this will be a £200,000 plus experience there's a lot of experience building… including a special floor for the "hero's walk".
That's the bit, when booted and suited, all you wannabe astronauts get to leave the hangar.
With special lights above and a reflecting floor beneath, you get to see yourself in full astronaut get-up. I have to say I think that might be the moment motion sickness would hit me, when it suddenly felt like reality.
And then it's off to the craft. Take off to altitude is around 45 minutes and then the big moment. Cut from the mothership, Unity's engines fire and within a minute it's 50 miles above Earth on the cusp of space.
When it comes to the force on the body, think a whole minute of the most ferocious pressure you've ever felt on a roller coaster. That's the bit where the clenching comes in!
But, once there, it's the calm. Three to four minutes of weightlessness as the capsule back flips to offer a view of Earth from space. Life-changing they say. I think I'd be more worried about life ending.
Within 15 minutes, according to the plan, it's back to Earth, gravity hopefully delivering with a glide not a bang.
For Richard Branson it's then time for the football. It could be quite a day for achieving dreams.
There is just one p.s. to this – who knew this amazing feat of engineering could be thwarted by the rain?
Because it's made of a composite, Unity can't cope with moisture. Rain would weaken its structure delaying or cancelling the flight.
I'm no scientist, but I think that may be the space equivalent of leaves on the line!
---
... read more
– July 11, 2021
Richard Branson to blast off to space on Virgin Galactic plane