Fourth of July Parade Returns to Cloquet Honors Healthcare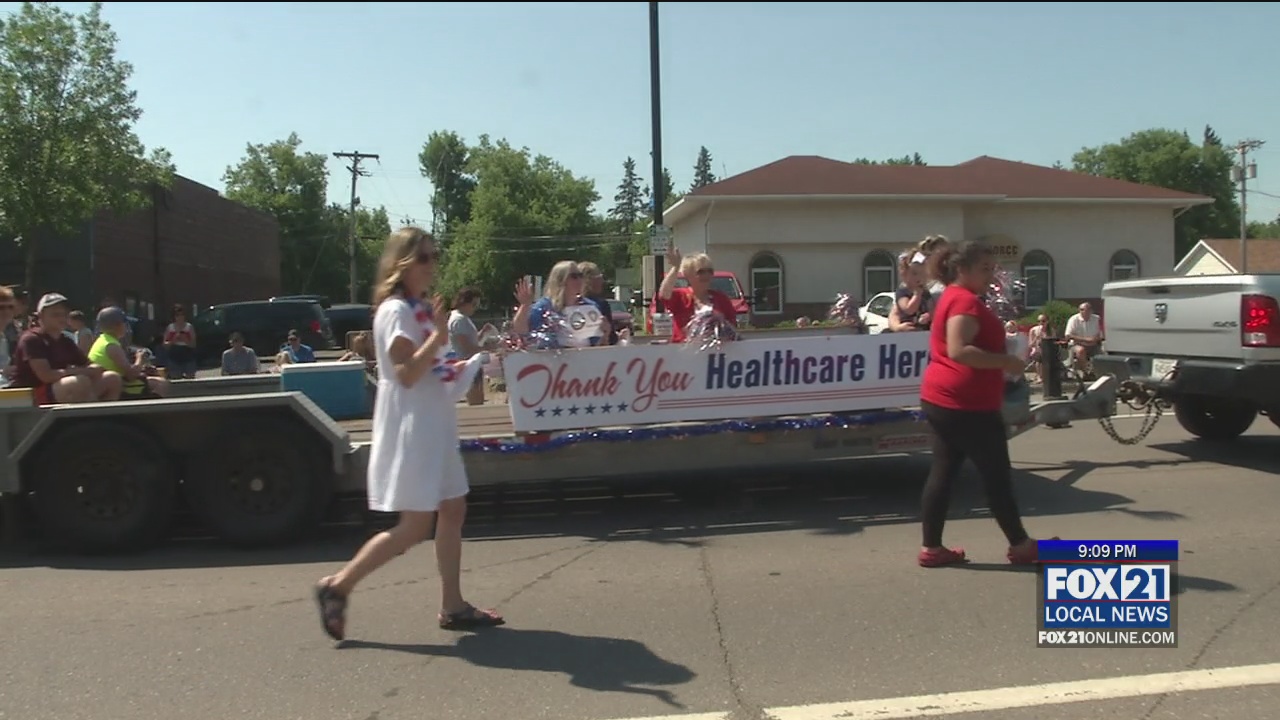 Clifton Park community celebrates Fourth of July with parade Sun, 04 Jul 2021 00:00:00 -0700-With local healthcare workers honored as the grand marshals of the parade. "It was really a no-brainer. They have worked so hard during this pandemic," said …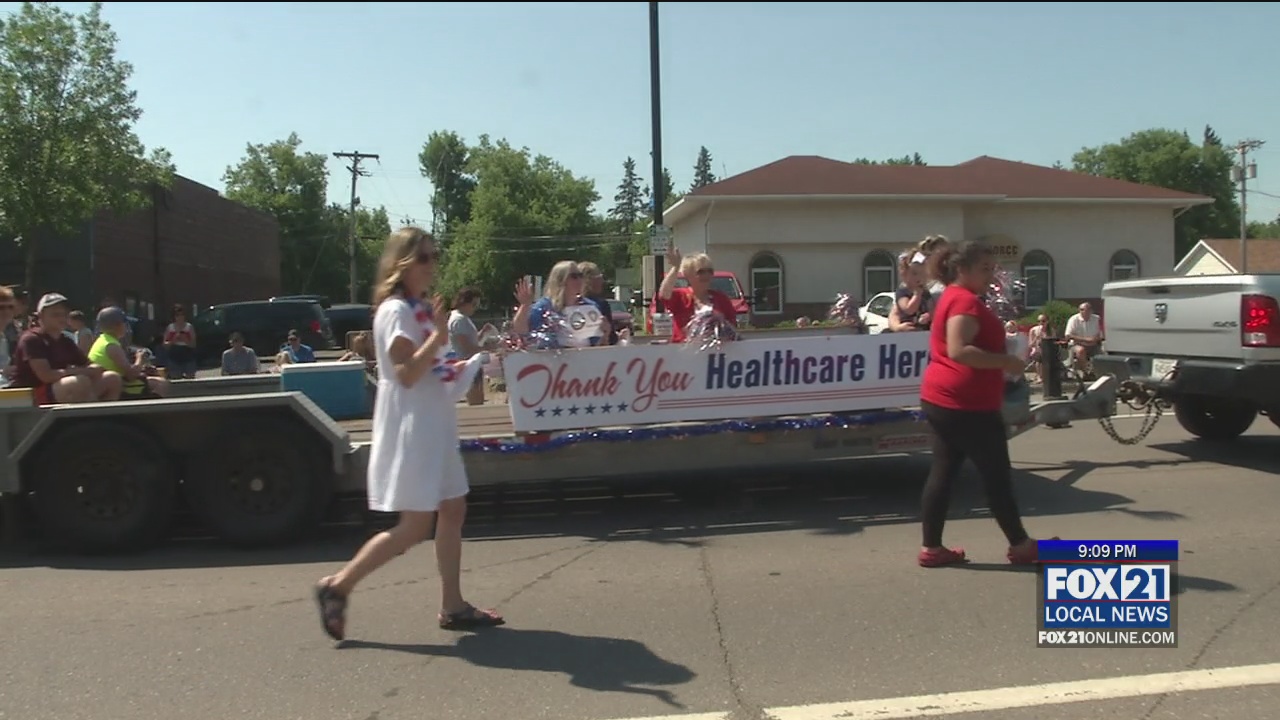 Fourth of July Parade Returns to Cloquet, Honors Healthcare Workers
July 05, 2021
CLOQUET, Minn.– The Fourth of July is a time that brings people together. Last year in Cloquet, the city's Fourth of July parade was unable to go on due to COVID-19. It's back this year, honoring healthcare workers who helped get us through the pandemic.
Crowds packed the sidewalks along Cloquet Avenue for the return of the city's Fourth of July parade.
"We are blessed to have great weather today instead of rain and thunderstorms like two years ago," said organizer Karin Stedman.
With local healthcare workers honored as the grand marshals of the parade.
"It was really a no-brainer. They have worked so hard during this pandemic," said fellow parade organizer Jana Peterson.
Parade planning was delayed until March because of the changing COVID guidelines. Now on July 4th, organizers are happy to see Cloquet residents enjoy the nation's independence together again.
"I think it's wonderful that we can be back normal, well almost normal and back to doing the things we love on the holidays," said Stedman.
"It's really great to be able to have the community together just to celebrate," said Peterson.
Fire trucks, local businesses and more made up the 70 floats in the parade. But at the front was the healthcare workers leading the way as grand marshals.
"We were delighted and honored to be represented and to be asked to do this," said Jenny Barta of Carlton County Public Health and Human Services.
Jenny Barta and Joanne Erspamer were just two of the handful of workers walking. While being on the front lines fighting COVID-19 has been tough, they add that it's been the community getting vaccinated that's helped the Northland gain its independence from COVID-19.
"This is definitely a milestone that we've been hoping to reach," said Barta. "We've been stuck at home with stay at home orders and to stay 6 feet apart, wearing masks. But now with so many people vaccinated in our communities. We have great vaccination rates with is wonderful."
The parade's return allows families to make summer memories again. Joe polo and his family came down from Hermantown after seeing the parade in 2019 and were excited to see a big return in 2021.
"The fourth is a great holiday," said polo. "It seems like it's kind of the start of summer and we can enjoy a little bit of the heat and the great weather that we're having today. It's going to be fun."
Other events in Cloquet on Sunday included a 5K race and a classic car show capped off with fireworks Sunday night.
---
... read more

Fourth of July Parade Returns to Cloquet, Honors Healthcare … Sun, 04 Jul 2021 00:00:00 -0700-"Boe xf dpoujovf up xpsl up cf uibu qfsgfdu vojpo. Xf xjmm bdijfwf uibu qfsgfdujpo uispvhi uif bhft, cvu ju jt hppe up lopx uibu uispvhi pvs ibmmt pg hpwfsonfou xf …
Clifton Park community celebrates Fourth of July with parade
CLIFTON PARK, N.Y. — The Clifton Park community celebrated the Fourth of July in its traditional fashion this year, with crowds of people gathered for a parade, fireworks and more.
After a scaled-down celebration in 2020 due to the COVID-19 pandemic, local leaders were thrilled to once again present the full-blown patriotic festival this Independence Day.
"We weren't sure this year how big the parade might be, coming off obviously a difficult past year and a half for our community and society, but boy it was fantastic," Clifton Park Town Supervisor Phil Barrett said during a ceremony at Clifton Common immediately following the parade. "It's great to see so many people here and celebrating what it is to be an American, and to show appreciation for everything we have as Americans."
The all-day event featured The Freedom Mile run/walk, a large parade with floats and marchers, a ceremony honoring the anniversary of American independence, a craft show, pony rides, a petting zoo and live entertainment by local acts Sirsy and Ten Most Wanted – all leading up to the grand finale fireworks display.
Clifton Park's July Fourth bash was one of several taking place throughout the Capital Region over the weekend, though some places that typically present fireworks did not host events this year.
Those who attended the Clifton Park event also had the opportunity to hear Assemblywoman Mary Beth Walsh, Senator Jim Tedisco and Congressman Paul Tonko speak during the ceremony about the significance of the occasion.
With most mask and social distancing guidelines recently removed, Walsh said it was lovely "just to see everybody smiling and see all the community pride that's here."
Tedisco lauded the men and women of the U.S. Armed Forces in his comments. "We are the greatest nation in the world because of one group," he said, praising the country's military members as the best, brightest, most courageous and compassionate fighting force for good.
Calling Sunday's parade and gathering a great expression of community, Tonko reminded folks in attendance about the humble beginnings of the United States of America on its 245th birthday.
"As a nation, we have much to celebrate," the congressman said to the crowd.
Working from the framework authored in 1776, "We as a nation, as a people, are in search of a more perfect union," he said. "And we continue to work to be that perfect union. We will achieve that perfection through the ages, but it is good to know that through our halls of government we can continue to advance what is right and strong and absolutely powerful for the people that claim this wonderful flag to be theirs."
Tonko concluded, "We are at our best when we really pay attention to that framework that was designed by our founding parents, and as they challenged us to continue to search for a perfect world."
---
... read more

– July 4, 2021