Lakers writers break down Game 2 of Suns vs

Lakers vs. Suns score: Live NBA playoff updates as LeBron James … Tue, 25 May 2021 20:00:00 -0700-Game 1 was an exhilarating victory for the Phoenix Suns and their longsuffering fans against the vaunted Los Angeles Lakers.
Lakers writers break down Game 2 of Suns vs Lakers
May 25, 2021
Game one was an exhilarating victory for the Phoenix Suns and their fans against the defending champions, the Los Angeles Lakers. Yet, Game two comes with a reckoning. Does the evil Los Angeles Lakers empire strike back? Or can the Phoenix Suns give their fans a new (title) hope?
Here to break down game two is Lake Show Life writer Ron Agers, a decorated writer who is as real as it comes when it comes to all things Lakers.
Without further ado, this interview will answer these key questions relating to game two. The answers have been edited for clarity.
How will LeBron James and Anthony Davis respond after subpar performances in Game one?
I don't know how they will respond but they had better play a whole lot more aggressive and assertive than they did in game one. Anthony Davis tends to float on the perimeter and take steady diets of 17-20 footers. Part of the issue is Drummond being in the paint. Lakers fans call it a false narrative that Andre is negatively affecting the offense.
But he is. Check this out…
AD usually gets the ball on the left wing right? What does he do? He faces up in a triple threat position. He can shoot, pass or drive.
Here's what we mean when Drummond is affecting AD's offensive game. If Dre is in the middle, that immediately takes away his driving option. The Suns will let him shoot 17 footers for the rest of the series if he takes them. And if he misses 2-3 jumpers in a row that will take him out of rhythm.
But in game one, AD was shooting 17-20 foot jumpers and he dribbled to the free-throw line just to take 15 foot fade-aways. Getting in the post draws double teams so the other players on the court can operate plus it draws fouls to get to the line for free throws.
Didn't AD have 15-17 free throws when he dropped 42 points? I understand the frustration of the "narrative" but in this case that's what we mean. NBA teams can't stop him in the post nor can they stop LeBron.
If LeBron and AD fire up jumpers, no one will care. If they hit them, tap them on the butt and say good shot. They'll live with it.
What adjustments can the Suns make to slow down LeBron and AD if they get going?
If the superstars get going…not much. But it's not about them. It's about Devin Booker and Deandre Ayton continuing to play well. The Lakers do not have the same roster as last year with Dwight Howard and JaVale McGee gone.
Charles Barkley is right. Nobody is scared of the Lakers like they were last year. Dwight would put you on the floor and JaVale is a athletic freak of nature at seven feet. They were the strong side help defenders.
Think about LeBron James and AD being the defenders from the weakside? That spearheaded the fast break offense that blew teams out.
Get the Lakers in the half court and demand the other shooters make shots.
Do Lakers centers Andre Drummond, Montrezl Harrell, and Marc Gasol have a significant role in this series? If not, how does playing Anthony Davis at center impact this series?
Short answer? No. Drummond's role is going to be a narrative if AD continues to struggle. Marc Gasol needs to play but Vogel will not play him despite the fact his playmaking and 3-point shooting is a problem for Phoenix.
Montrezl Harrell is gone Kevin. I think he'll be in Charlotte next year sitting on a $100 million contract. If he wasn't benched during the regular season, we wouldn't be carrying this conversation right now. The Lakers would be a higher seed.
Will Chris Paul continue to outplay Dennis Schroder and the other Lakers guards with one arm (literally) tied behind his back?
Yes, Dennis Schroder is going to be a cautionary tale on the downside of betting on yourself. Since he turned down that Lakers offer, he's been terrible. I believe the Lakers should package him in a sign and trade and get some assets while getting rid of him. He's been awful.
The only real good thing that came out of the Danny Green deal is that the team saved about $200,000 off the salary cap to pay the other players. He's not a disciplined defender and he gets exposed. Remember Stephen Curry cooked him in the play-in game to the point Vogel benched him for Caruso. If that doesn't happen, the Lakers lose that game.
The Los Angeles Lakers are in a financial bind this offseason trying to resign Schroder plus Alex Caruso, Montrezl Harrell, and Andre Drummond (who are all unrestricted free agents this offseason).
Bonus question: will Schroder be nice enough to open the limousine door for Paul?
PFFT! CP3 would fire him. Dennis has been a menace for his own team.
Conclusion:
Please give a special thank you to Ron Agers of Lake Show Life for taking the time to answer these burning questions for Valley of the Suns.
To get perspective on the Lakers side, please check out my Game 2 preview for Lake Show Life along with Ron's postgame recap for Game 1.
---
... read more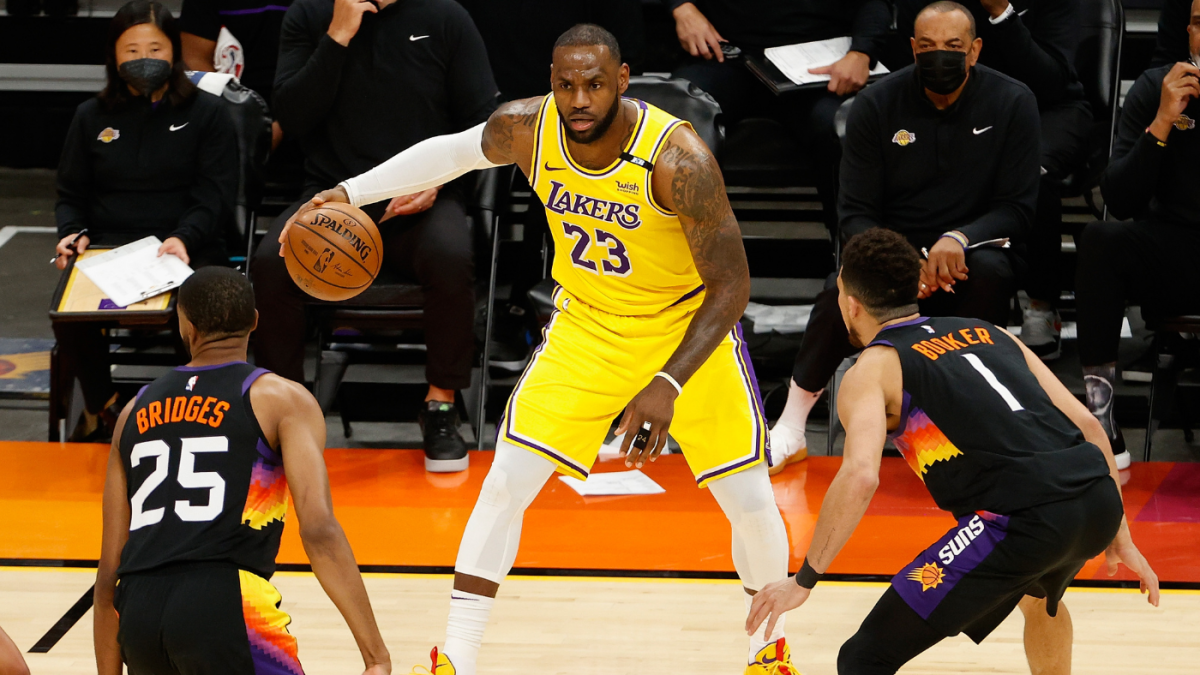 Lakers writers break down Game 2 of Suns vs Lakers Tue, 25 May 2021 20:00:00 -0700-Game 1 between the Los Angeles Lakers and Phoenix Suns provided fans with a bit of everything. There were injuries to star players, multiple technical fouls …
Fumble
site: | arena: | pageType: error | section: | slug: | sport: | route: | 6-keys: media/spln/other/reg/free/notfound
Whoops! It looks like this page has been moved or deleted.
---
... read more

– May 26, 2021
lakers vs suns, Suns