Lakers vs Suns Los Angeles needs to emphasize spacing in lineup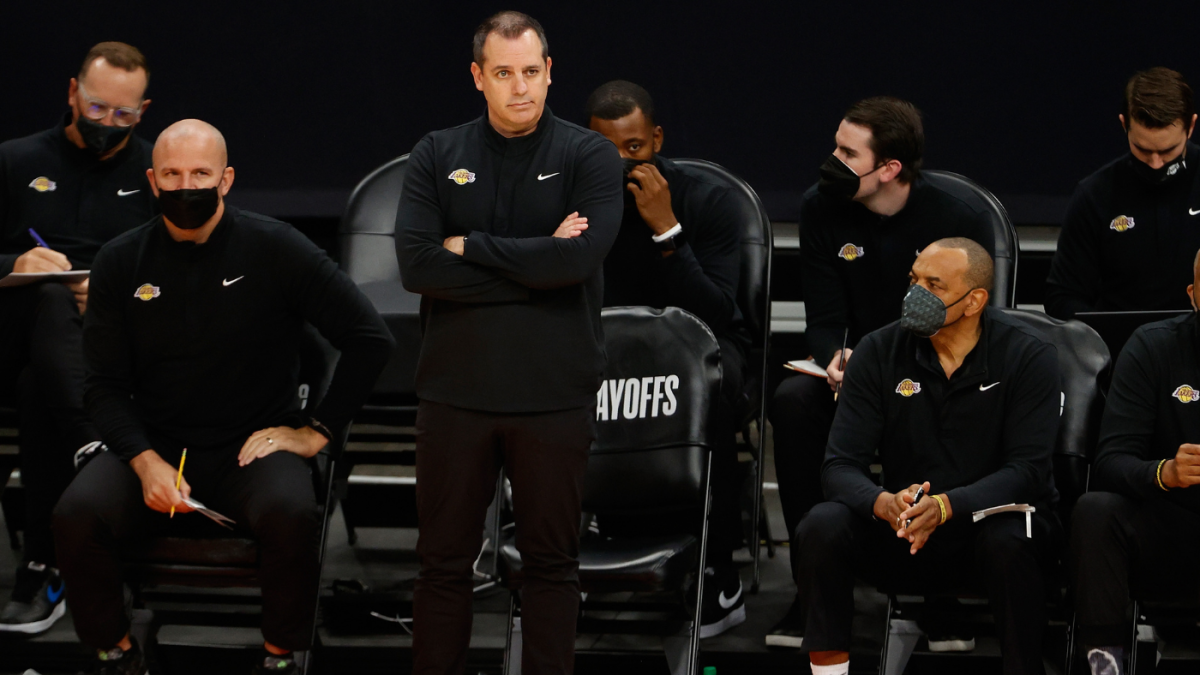 Lakers vs. Suns – Game Recap – May 23, 2021 – ESPN Sun, 23 May 2021 13:00:00 -0700-After the Los Angeles Lakers lost Game 1 of their second-round series against the Houston Rockets last season, one clip, in particular, went viral. The play came …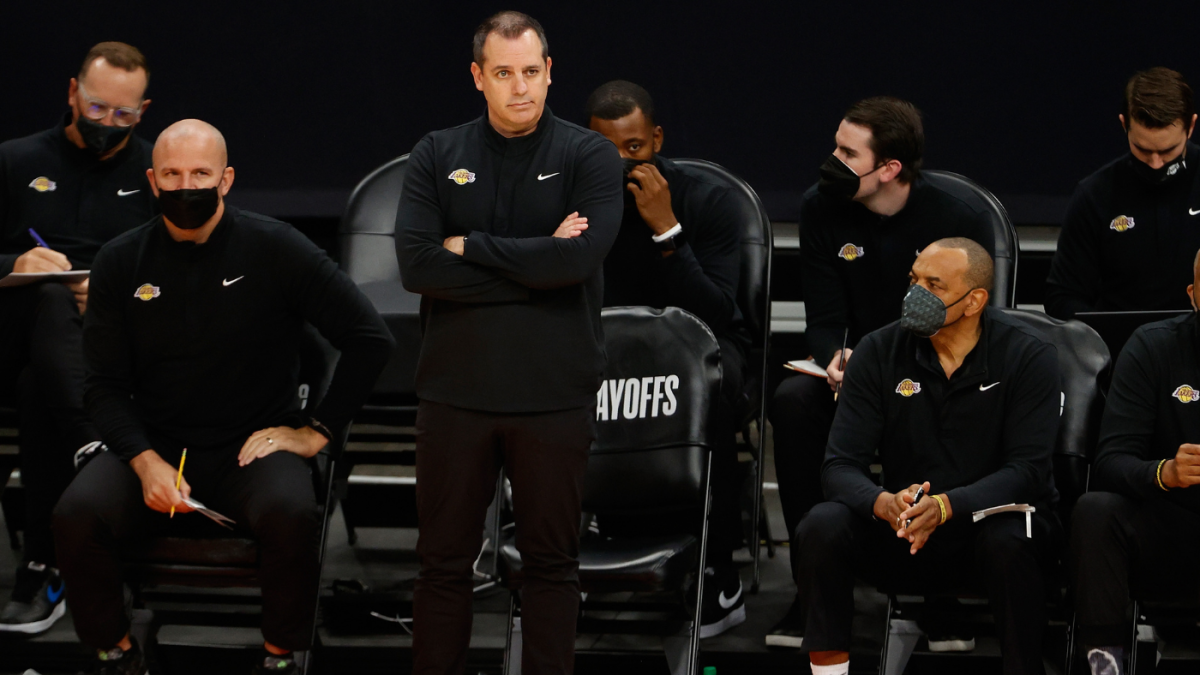 Lakers vs. Suns: Los Angeles needs to emphasize spacing in lineup decisions after ugly Game 1 loss to Phoenix
After the Los Angeles Lakers lost Game 1 of their second-round series against the Houston Rockets last season, one clip, in particular, went viral. The play came in the fourth quarter, with the Lakers trailing by 12. LeBron James wanted to drive to the basket, a theoretically easy task considering Houston's small-ball lineup. The only problem? All five Rockets were waiting for him at the rim. 
They had good reason to. Dwight Howard was playing center for the Lakers and was no threat on the perimeter. The Rockets weren't interested in guarding Rajon Rondo or Markieff Morris either. Both were inconsistent shooters, whereas a James drive is one of the most valuable plays in basketball. They wisely devoted their resources to stop it, and a frustrated James was caught grumbling on camera that "there's no spacing."
The Lakers wound up recovering to win the series in five games. No single factor clinched the victory for them, and many were out of their control. Those inconsistent shooters got hot. Russell Westbrook was injured. But Frank Vogel also took matters into his own hands by abandoning the bigger lineups that were depriving James of the spacing he needed. The Lakers moved Anthony Davis to center for the rest of that series and didn't look back. 
But if you're wondering if the right lessons were learned, well, let's look at the Lakers' spacing in Game 1 of Sunday's series against the Phoenix Suns.
Not ideal, right? The Lakers devoted 34 minutes of game time to non-shooting centers in Andre Drummond and Montrezl Harrell, and this is roughly what their drives saw as a result. Davis was hardly flawless either, even when he moved to center. but the Lakers hardly helped matters with their lineup decisions, and those extend even beyond the centers. 
The Lakers spent three possessions with a backcourt of Dennis Schroder and Talen Horton-Tucker. That duo shot a combined 31.5 percent on 3-pointers this season, and in the 810 possessions that duo played together during the regular season, the Laker offense ranked in the 25th percentile in terms of offensive efficiency, per Cleaning the Glass. Unsurprisingly, the Lakers did not score a single point during that brief stretch. Schroder and Harrell played a three-and-a-half-minute stretch together in the first quarter that resulted in only four total points. The Lakers don't just have big men that aren't shooters. They have guards that don't either, and the most egregious offenses come when the Lakers play both of them together.
Before Anthony Davis got hurt earlier in the season, the Lakers started him and James alongside Schroder, Kentavious Caldwell-Pope and Marc Gasol. The unit was dominant on both ends of the floor, outscoring opponents by 13.9 points per 100 possessions in exactly the ways you'd expect. The lineup had almost perfect balance. Schroder is a poor shooter, but his supplementary ball-handling gave LeBron needed breathers, and with two expert passers like James and Gasol on the floor, Schroder's speed needed to be accounted for off of the ball even if his shooting didn't. Gasol and Caldwell-Pope provided the spacing. Davis didn't have to bang with centers inside, but he wasn't relegated to a spot-up role, either. He could function as a center when necessary without taking the beating a center usually does.
Swap in Drummond for Gasol and that harmony disappears. The Drummond version of the starting lineup shot only 28.6 percent on 3-pointers across an admittedly tiny 46-minute regular-season sample size. The Lakers shot only 7-of-26 from behind the arc in Game 1, and without that spacing, Davis and James look mortal offensively. Their 31 combined points were concerning, but largely because of where those points weren't coming from. The two Laker superstars attempted just six shots in the restricted area in Game 1. In the 2020 postseason, they combined to average 13.6. 
LeBron is an underrated shooter. Davis was a great one last postseason when he made almost 50 percent of his mid-range attempts and over 38 percent of his 3-pointers, but that isn't the norm. This regular season, for instance, he fell to 34.8 percent in the mid-range and 26 percent on 3-pointers. Neither are special because they can shoot. The fact that both can shoot only amplifies everything else that they do well. Any lineup that turns the two of them into jump-shooters is inherently broken. The numbers support that theory. The Lakers outscored opponents by 16.9 points per 100 possessions with Davis at center this season, but only 4.9 points per 100 possessions with him at power forward, per Cleaning the Glass. The more shooting you put around them, the better. 
That is especially important now when neither of them is playing at 100 percent. If the Lakers want either of them to attack the basket effectively, they need to ensure that they have the space to do it. Their typical athleticism can't make up for clogged paints while they're recovering from injuries, and that is the key difference between last season's run and this one. 
The 2020 Lakers had an enormous margin for error. All four teams they beat in the postseason were dealing with at least one meaningful injury or absence. Even if they weren't, with Kevin Durant and Stephen Curry at home and Kawhi Leonard knocked off in the second round, the Lakers had the two best players in the bubble. Both of them were playing at something close to perfect health, and that covered up for a lot of their flaws. Any lingering issues were solved by outlier shooting performances. Rondo is a career 32.3 percent 3-point shooter and he jumped to 40 percent in the playoffs. Morris jumped from 34 percent for his career to 42 percent in the postseason. Throw in Davis' scorching shooting streak, and the Lakers' spacing issues solved themselves. 
But not everything that went right last time is going to work out this season. The Lakers themselves aren't healthy and cannot rely on their superstars to out-talent every team they play against. Their role players might not have the best shooting stretches of their careers. The Red Sea might not part for them as it did a year ago. If the Suns have anything to say about it, it won't. 
Phoenix won 51 games this season. They're a No. 2 seed, the highest the Lakers have played in the postseason during the James-Davis era, and Chris Paul isn't exactly known for letting opponents get away with suboptimal decision-making. The Lakers could afford to punt away opening games last season because their upside was so much higher than everybody else's that they could wrangle the series back in their direction afterward. 
They might not be able to do that this year. Beating a team like the Suns four times out of seven is hard enough. Now they have to do it four times out of six just to escape the first round, and they have to do it without James or Davis playing at their best. Their margin for error has disappeared. How can they beat the Suns if they're already beating themselves with these poor lineup decisions?
At a bare minimum, that's going to mean devoting more minutes to Marc Gasol and fewer to Montrezl Harrell. Frankly, the decision to play Harrell over Gasol in Game 1 was already a bit of a head-scratcher. The Lakers have outscored opponents by 28 points with Gasol on the floor since Drummond's debut, whereas they've lost Harrell's minutes by 88 points. The last time they saw Phoenix, Gasol was a plus-10 while Harrell was a minus-9. When Harrell and Drummond started struggling in the fourth quarter, Vogel reinserted Gasol to seal the victory. Ideally, Gasol should be starting, but just getting him into the game would go a long way towards properly spacing the offense. 
But there are other moves worth considering as well. Moving Schroder to the bench in favor of a guard that shoots more consistently, such as Alex Caruso or Wes Matthews, would help Drummond as well as the superstars score near the basket. Some backup center minutes for Markieff Morris could work as well. Those lineups held their own against the smaller Rockets last season, and Phoenix's bench is constructed similarly with Dario Saric as the primary backup center. The Suns aren't built to punish Morris' size, and while he is hardly an elite shooter, he's enough of a threat to warrant defensive attention.
Drummond, Schroder and Harrell are bigger names. They have clout in the locker room. They're also younger and impending free agents. None would be happy to sacrifice minutes, and Vogel is balancing a delicate political situation here. But politics can't get in the way of winning. Vogel benched a season-long starter in Javale McGee last season to put the Lakers in the best possible position. If he's going to get the Lakers back there this season, he's going to have to make even harder decisions. 
That's what it takes to win the championship in most seasons. Typical postseason opponents aren't as forgiving as the ones the Lakers beat last season. If Phoenix can punish the Lakers as easily as they did today, just imagine what Brooklyn could do to them in the Finals.
It took the Lakers two Game 1 losses to optimize last season. Hopefully, one will be enough to do the job this season. If it doesn't? The Lakers will have nobody to blame but themselves.
---
... read more

Lakers vs. Suns: Los Angeles needs to emphasize spacing in lineup … Sun, 23 May 2021 13:00:00 -0700-Phoenix coach Monty Williams had warned his young Suns there would be moments like this in the NBA playoffs, especially against the defending champion Los …
Lakers vs. Suns
PHOENIX — — All-Star guard Chris Paul was grimacing in pain early in the fourth quarter, playing essentially with one shoulder. Cameron Payne had just been ejected. Players had to be separated and emotions were heated.
Phoenix coach Monty Williams had warned his young Suns there would be moments like this in the NBA playoffs, especially against the defending champion Los Angels Lakers.
It's safe to say they passed the first test.
Devin Booker scored 34 points, Deandre Ayton had 21 points and 16 rebounds and the Suns won their first playoff game in 11 years, beating the Lakers 99-90 on Sunday. For Booker, his long awaited appearance in the postseason lived up to the hype.
"The intensity's different, the physicality is different," Booker said. "And it's only one game."
It was the first playoff appearance for several Suns players, including Booker, Ayton and Mikal Bridges, but they didn't look like postseason rookies against LeBron James and the Lakers. They helped Phoenix offset a tough game for Paul, who didn't look healthy after a right shoulder injury in the second quarter.
The Suns led 86-70 early in the fourth, but the Lakers quickly cut it to 86-77 with 9:02 left.
That's about the time things got a little rowdy. L.A.'s Alex Caruso and Payne got into an altercation near the sideline after Payne knocked Caruso to the ground. L.A.'s Montrezl Harrell jumped into the fray and both teams had to be separated. Caruso and Harrell were each given a technical foul, and Payne was given two technicals and ejected.
"It's something we've been talking about as a team and a staff," Williams said. "There's going to be a moment in the game where you're going to have to regulate your emotions."
Added Bridges: "Times get tough, we don't separate. We're going to fight through it together."
The Suns did. Booker kept making shots and Ayton was a force on the glass, finishing with eight offense rebounds and shooting 10 of 11 from the field. The Lakers never got within striking distance in the final minutes.
"(Booker) is a scoring machine, puts a lot of pressure on our defense to cover him in a lot of ways," Lakers coach Frank Vogel said. "When we double team him, he's got Ayton in there. We didn't do a good enough job but if we hold this team to 99 points in Game 2, I feel good about our chances."
James finished with 18 points, 10 assists and seven rebounds. Anthony Davis shot just 5 of 16 from the field and had 13 points. The Lakers shot 7 of 26 (27%) from 3-point range.
"I missed a ton of shots. We missed a ton of shots as a team," Davis said. "There is no way we are winning a game, let alone a series with the way I played. This is on me."
Game 2 is Tuesday night in Phoenix. The Lakers have been in this spot before — they lost Game 1 in the first two series last season before rallying to win and eventually becoming NBA champion.
It was an eventful first half that saw the Suns take a 53-45 lead.
Phoenix had a 32-25 lead after the first. But the festive atmosphere in Phoenix turned to a stunned silence early in the second quarter when Paul bumped into teammate Cameron Johnson and fell to the floor in obvious pain while holding his right shoulder. He was down for a couple minutes — surrounded by players from both teams — before slowly walking off the floor with a towel over his head.
The 36-year-old star returned a few minutes later to a huge roar from the crowd, but didn't look right. He was dribbling mostly with his left hand and missed the only shot he took before halftime.
Booker had 17 points before the break on 8-of-14 shooting and Ayton added 14.
The Lakers needed to beat Golden State on Wednesday in the play-in tournament just to earn the No. 7 seed in the playoffs. But they still came into the series as the over the second-seeded Suns, according to FanDuel.
PAUL'S SHOULDER
Paul said he "heard a crack" when he suffered his shoulder injury but is confident he'll be good for Game 2.
Williams said he talked with Paul for a minute after the game about his shoulder. The coach said the point guard assured him that he'd be OK going forward.
"He was OK and he'll be OK going forward, but he was pretty sore when he came back," Williams said. "Him playing today gave us a lot of juice, lot of energy. It was inspirational."
GETTING VAXXED
Vogel said his team expects to reach the 85% COVID-19 vaccination threshold Monday. He added that he didn't expect much to change other than the team's restaurant options might be expanded.
LOTS OF FOLKS
The Suns announced capacity for Sunday's game was 11,000, but it felt like more were in an arena that holds a little more than 18,000. It was the first time there was more than 10,000 allowed in the newly-renovated arena.
"I was like 'Holy smokes. This is pretty cool," Williams said. "I had to get myself under control emotionally."
TIP-INS
Lakers: The Lakers shot 19 free throws before the Suns shot their first. The Lakers finished just 17 of 28 on free throws. … Vogel confirmed that guard Ben McLemore was in a recent car accident but was uninjured and available to play on Sunday.
Suns: The Suns were essentially fully healthy for Game 1. Forward Abdel Nader (knee) was the only player unavailable, but he's been out for the past couple months.
——
---
... read more

– May 23, 2021
lakers vs suns, Chris Paul, Suns, Phoenix Suns, devin booker, suns vs lakers, Anthony Davis, Deandre Ayton